Last Updated on November 27, 2023 by David Michael
Baked Ham with Brown Sugar Bourbon Glaze
Disclosure: This post may contain affiliate links, meaning we may earn a commission if you make a purchase using our links.
Baked ham is a crowd pleaser. A sweet glaze is the perfect counter to hams salty bite. This simple glaze of brown sugar and bourbon is fragrant with orange and spices.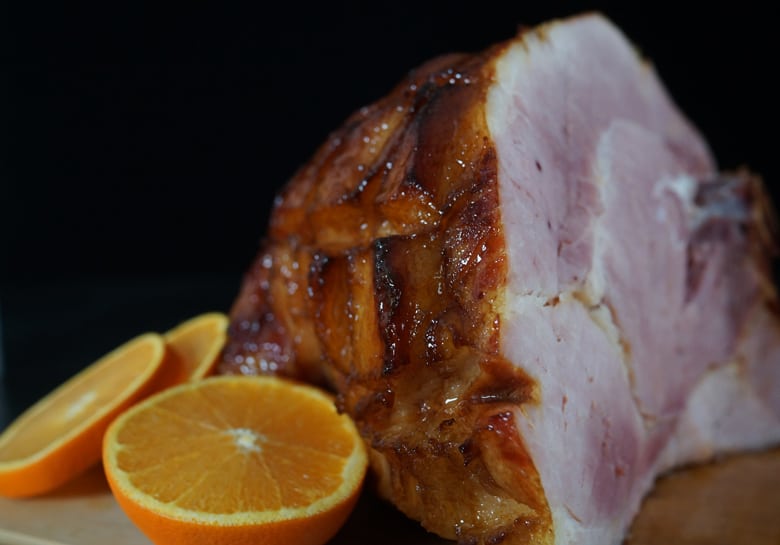 Perfect for an Easter supper, Christmas dinner, or anytime; baked ham with brown sugar bourbon glaze is an easy way to entertain great company.
Baked Ham with Brown Sugar Bourbon Glaze Recipe
1 fully cooked bone-in ham 10 pounds
Brown sugar bourbon glaze – recipe below.
Place rack in lower part of oven.
Preheat the oven to 350 degrees F.
Place a shallow roasting rack in a roasting pan large enough to hold your ham. I like to use a half sheet pan with a rack.
Remove the rind / skin from your ham if desired, leaving as much fat on the ham.
Score the fat with a knife in a diamond pattern. Be careful not to cut through to the muscle under the fat layer.
Place the ham on the rack in the roasting pan and cover the ham with foil.
Bake for 1 hour 40 minutes for a 10 pound ham, or 10 minutes per pound if yours is larger or smaller.
40 minutes before the ham is done, remove the foil and baste with half of the glaze. Return uncovered to the oven.
Baste again in 20 minutes using the rest of the glaze.
Check the internal temperature after 20 minutes with an instant read thermometer, it should be 140 degrees F.
Remove from the oven and let rest for 15 minutes before moving to a serving platter and carving.
Brown Sugar Bourbon Glaze Recipe
1 cup brown sugar, packed
1/2 cup bourbon
1 cinnamon stick, 3 inches long
Peel of 1 orange studded with 3 cloves
2 tablespoons cold unsalted butter.
Place the brown sugar, bourbon, cinnamon stick, orange peel and cloves in a small saucepan.
Simmer over medium low heat for 10 minutes.
Remove from heat.
When the glaze stops bubbling take out the orange peel and the spices.
Wisk the cold butter into the glaze. You want the butter to emulsify with the glaze, not melt and sit on top. This will help the glaze adhere to your ham.
Remove the Rind
I prefer to remove the rind / skin from the ham. The only time I've ever gotten the skin to crisp up the ham ended up overcooked and dry.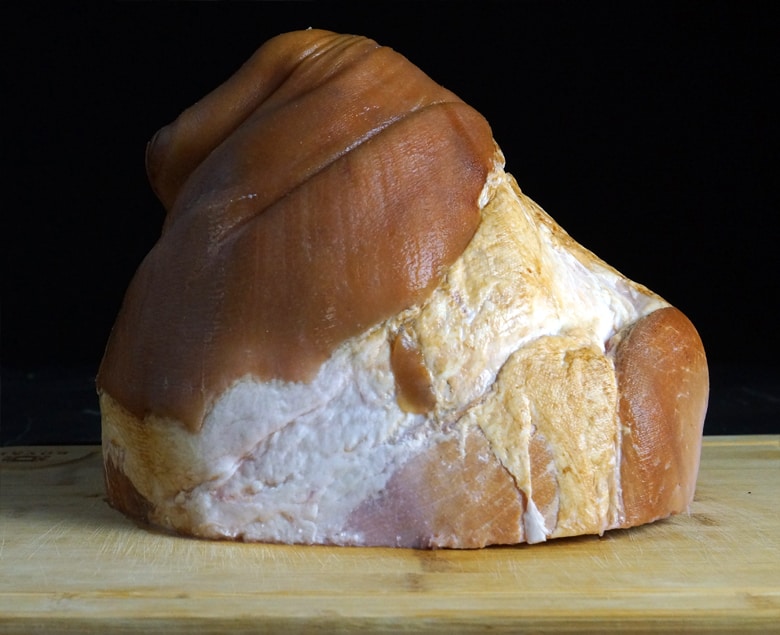 It's a simple thing to remove. Just run a sharp knife under the skin and start to peel the rind off.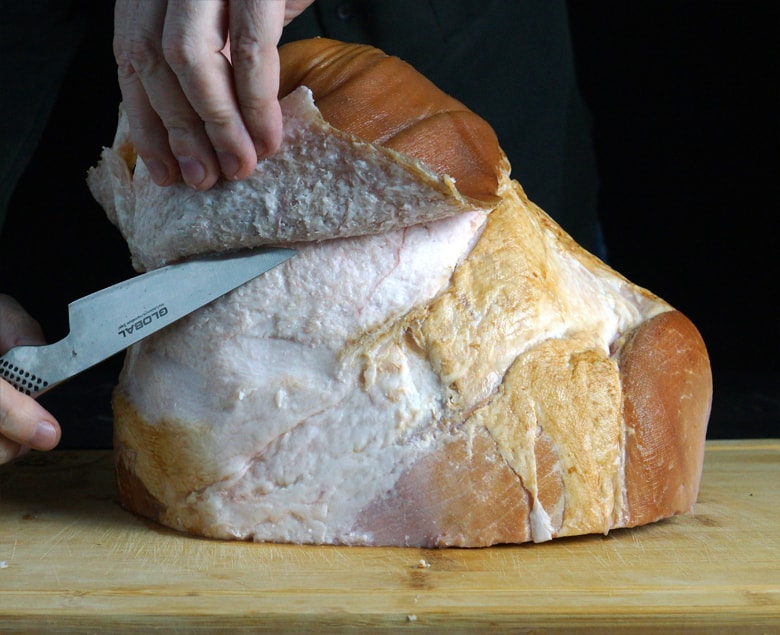 Be careful not to take too much fat off. That layer of fat will help keep your baked ham moist, and will crisp up nicely.
When to glaze
I like to glaze when there's 40 minutes left in the cooking time. I use half of the glaze and then cook the ham uncovered for 20 minutes. Then I use the rest of the glaze and cook for another 20-30 minutes.
I find that if you glaze the baked ham too early the sugars in the glaze go from caramelized to burnt and bitter really quickly.
Looking for other Holiday Ideas? Try our Foolproof Roast Turkey.
For a great holiday accompaniment try out Spiced Cranberry Relish.
Recommended Products
As an Amazon Affiliate, I earn from qualifying purchases.
This half sheet pan has become one of the most used things in my kitchen. The rack doubles as a cooling rack and can also be used as a roasting rack. It's heavy weight helps prevent warping that can happen with lighter weight steel.
This sheet pan is also what I use to make Tender Oven Baked Ribs.
I use my Thermo Pro thermometer for just about everything. It has a magnetic back that lets me keep it right on the refrigerator or on the oven door.