Last Updated on November 27, 2023 by David Michael
Best Pens for Planners 2023
Disclosure: This post may contain affiliate links, meaning we may earn a commission if you make a purchase using our links.
I love writing instruments. I've been a pen collector for as long as I can remember. Fountain pens, gel pens, ballpoint, calligraphy, and rollerball pens – I have a ridiculously large collection. They all have their uses, and some are more suited for certain tasks than others.
We're going to look at pens specifically for planners. For use in a planner I want a pen with three main qualities: permanence, fast drying, and available in a variety of colors. I like to color code, and these are some of the best colored planning pens. Of course all of these pens are also great for bullet journals also. These are some of the best pens for planners that are easily available.
Check out picks for daily planners here.
We also look at academic planners here.
Permanent
I carry my planner with me. Once in a while I may get caught in a rainstorm or spill a beverage. There is nothing worse than having an important meeting or contact info smear away. A pen with waterproof or water resistant ink solves this problem.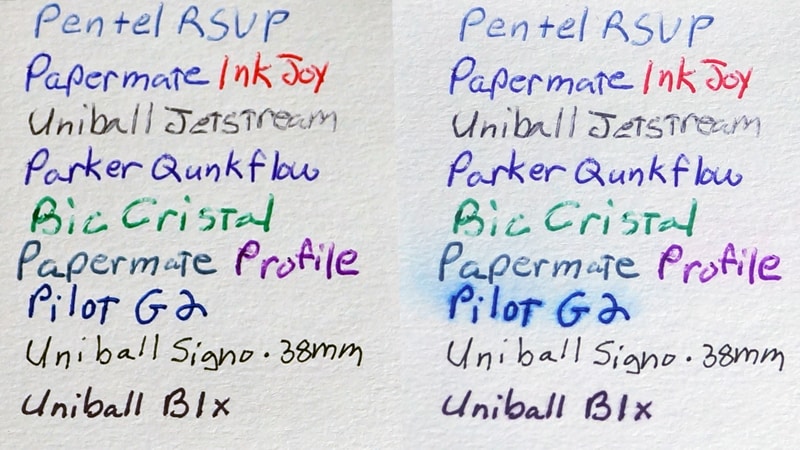 Water resistant pens may feather and bleed some, but will stay legible after getting wet. We saturated this paper after writing out the ink samples by holding it under a running faucet. The Pilot G2 bled a bit, but is still easily legible. The Uniball Blx pen grew and feathered a bit, but did not bleed. The Pentel EnerGel Pro showed no visible changes even after being drenched. All of the pens tested remained legible after our drenching them.
Fast Drying
Quick drying ink prevents smudging and smearing. It keeps your writing from transferring to the opposite page when you close your planner. Fast drying pens are also essential for left handed writers. Even within the same brand some colors dried slower than others. Green gel pens seemed to take the longest to dry, but the .38 mm gel pens dried so quickly that this was not a concern.
Color Variety
I use different colored pens in my planner to color code entries. I use one color for notes, a separate color for meetings or calls I need to make. Personal notes get their own color when I'm writing in my business planner. Using different colors lets me keep track of my days with a quick glance. Our picks are some of the best colored pens for planners.
Types of Pens
Ballpoint Pens for Planners
Classic, dependable, and available just about everywhere. The ballpoint pen hasn't changed too much since becoming a mass produced product early in the twentieth century. The archetypical Bic Cristal pen is even included in the permanent collection of the Museum of Modern Art. I love Paper Mate's Profile and Ink Joy ballpoint pens for the wide color range available. I relied on Pentel's RSVP ballpoint pens to get me through school, and they still perform for me now. These are our picks for ballpoint pens for planners:
Gel Pens for Planners
Gel pens use a water based ink. The color comes from pigment suspended in the water based gel. They are available in a huge assortment of colors. They are also available as opaque inks that can be seen on dark papers. They do take longer to dry than a ballpoint pen, but not by much. My favorite is the Uniball Signo with the .38mm point. The smaller point makes fine but very legible lines that dry quickly enough for left handed use. Uniball also makes the BLX range of gel pens – colored inks blended with black ink and made to be impervious to solvents. Pentel's EnerGel Pro line is their newer, permanent pen. It has great flow and dries quickly. Pilot's famous G2 is one of the most popular gel pens and for good reason. Sakura is the original gel pen, and their archival inks meet all of our requirements as a top pen for planners. These are our picks for gel pens for planners:
Low Viscosity Pens for Planners
Low viscosity ink pens fall between a ballpoint pen and a gel pen. They're sometimes called hybrid ink pens. They have all the permanence of an oil based ballpoint pen with the smooth writing of a gel. Low viscosity pens also dry faster than gel pens. The only drawback is there are fewer colors available. If you only write in black or blue then I would absolutely recommend these. My favorite is Parker's Quinkflow refill for their classic Jotter line. The Uniball Jetstream is a popular pen, though not quite as waterproof as the Quinkflow. Pilot's Acroball is another smooth writing hybrid pen. These are our picks for low viscosity hybrid pens for planners:
Fountain Pen Ink for Planners
I love fountain pens. I'm not including them here because they take too long to dry for easy left handed use. There are some exquisite waterproof inks available for them. If you're a fountain pen user and want an ink with staying power De Atramentis' Archive Inks can't be beat. They also make a range of Document inks with similar qualities. Noodler's Bulletproof Inks are also top quality and come in a great range of colors. Some of my favorites are:
Pens are a very personal choice. We hope you enjoy our picks for pens for planners. These are pens that we use on a daily basis and have proven their reliability. These are all some of the best pens for planning that are easy to come by.