Last Updated on November 27, 2023 by David Michael
Chinese Roast Ribs
Disclosure: This post may contain affiliate links, meaning we may earn a commission if you make a purchase using our links.
Tender ribs glazed with a Chinese sauce loaded with fresh ginger and sweet spices are perfect for ringing in Lunar New Year. They work great as an appetizer, main, or even a snack for a super bowl party.
Cinnamon, star anise, cloves, and coriander are the perfect counterpoints to the fresh ginger and brown sugar. The dark soy sauce pulls everything together without being too salty.
If you want to serve more sauce on the side double the sauce recipe and keep half aside to serve at the table.
Chinese Roast Ribs Recipe
Ribs:
1 rack of spare ribs 4-5 pounds
1 tablespoons kosher salt
1 tablespoon ground black pepper
1 tablespoon powdered garlic
2 teaspoons paprika.
Sauce:
1/4 cup plus 2 tablespoons dark soy sauce
1/4 cup Shaoxing cooking wine, or dry sherry
1/4 cup water
1 cup brown sugar
3 inch piece of fresh ginger, peeled and chopped
6 whole star anise
2 cinnamon sticks, about 3 inches long
4 whole cloves
2 teaspoons coriander seeds.
Garnish: sliced scallions and sesame seeds.
Preheat the oven to 300º F.
Season the ribs on both sides with the salt, pepper, garlic and paprika.
Place the ribs on a rack placed in a sheet pan.
Place ribs, uncovered, in oven and cook for 2.5 hours.

Meanwhile, make the sauce.
In a small saucepan mix together the soy sauce, Shaoxing wine, and water.
Add the ginger, star anise, cinnamon sticks, cloves, and coriander seeds.
Bring to a simmer and stir until the sugar is dissolved.
Let simmer 5 minutes.
Remove from heat and let cool.
Strain into a measuring cup or other container with a spout.
After the ribs have cooked for 2.5 hours, pour the strained sauce over the ribs.
Return the ribs to the oven and cook for another 30 minutes.
Transfer the cooked ribs to a cutting board and pour any sauce in the pan back into the measuring cup.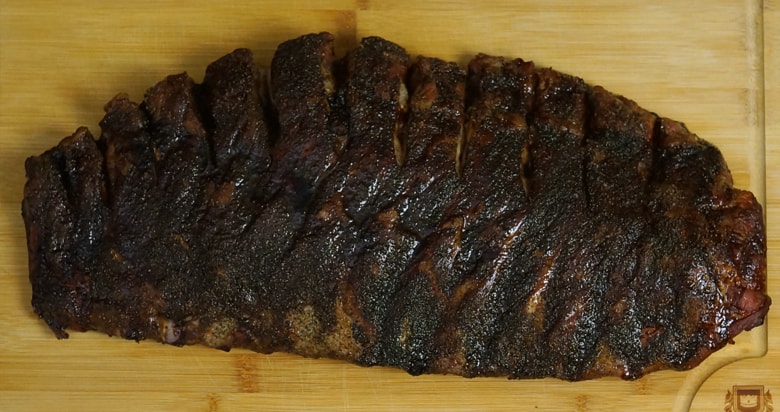 Slice into individual ribs and pour any collected sauce over the ribs.
Serve garnished with sliced scallions and sesame seeds.
Tips for the best Chinese Roast Ribs
Use dark soy sauce, it's a bit sweeter and less salty than regular soy sauce. My favorite is the dark mushroom soy sauce by Pearl River Bridge, but any dark soy sauce will work.
The sauce recipe makes about a cup. Straining it into a one cup measuring cup is the easiest way to pour the sauce onto the ribs.
You may also like our recipe for Smoky Oven Baked Ribs.
For a great starter / side dish check out our recipe for Cold Sesame Noodles.
Recommended Products
As an Amazon Affiliate, I earn from qualifying purchases.
This is the brand I use. It has a mellow not too salty taste. I don't taste the mushroom, but my Chinese friends insist that this is the one to use.
This is one of the most versatile things I use in my kitchen. It gets used for just about everything, with the rack it's a roasting pan. The rack works as a cooling rack too. It's the perfect size for a rack of spare ribs.
I grew up having Pyrex glass measuring cups in the kitchen, and they are the ones I still use. The one cup size is perfect for pouring the sauce over the ribs.