Last Updated on May 19, 2023 by David Michael
Cocktail Glasses – Stemware for the Bar
Disclosure: This post may contain affiliate links, meaning we may earn a commission if you make a purchase using our links.
Rising like skyscrapers from the tablescape, stemware adds a practical and stylish element to your bar. Shaped to show off ingredients and deliver flavors to your palate, stemware also keeps your hands from warming up your drink. They also elevate your entertaining – people look great holding a cocktail in a stemmed glass.
These are some of my favorite stemmed bar glasses.
Martini Glasses
The king of the cocktail glasses. Its angular shape makes for an elegant presentation on the table and in the hand. Also known as the cocktail glass for good reason: it is the cocktail glass. The straight sloping sides show off classic cocktails served chilled such as the Martini, Manhattan, and Cosmopolitan. Dessert drinks look fantastic served in a martini glass, try our Chocolate Martini.
Sizes vary wildly when it comes to martini glasses. Oversized showstoppers like the Riedel Vinum XL martini glass to a smaller, normal sized glass like the Riedel Vinum martini – just the right size for sipping without letting the drink warm up too much.
Riedel Vinum XL Martini Glasses – View on Amazon
Riedel Vinum Martini Glasses – View on Amazon
Coupe Glasses
Elegance personified. A popular glass used to serve Champagne. It was the height of fashion in the roaring 20s and its ushering in of Art Deco Style. The delicate counterpart to the Martini Glass' sturdy form. Use it for sparkling wines, or any drink that is chilled and strained.
The Veritas Coupe by Riedel is my go to coupe glass. It has a larger bowl that makes for a great presentation. Use them for Champagne or sparkling wines. Try any of our Champagne Cocktails in them.
Veritas Coupe Glasses by Riedel – View on Amazon
Sour Glasses
Stylish flared rim adds flair. I was a bit skeptical at first until I tried a whiskey sour using the Riedel Sour Glass. Designed in collaboration with beverage consultant and spirits specialist Zane Harris, this glass delivers a cocktail to your palate for the most enjoyment. Tasting is believing and I highly recommend these glasses.
This sour glass is a natural for our Whiskey Sour recipe, and is a great pairing for other sour family drinks like the Sidecar and Margarita.
Sour Glasses by Riedel – View on Amazon
Nick and Nora Glasses
Sophistication based on the martini glasses that Nick and Nora Charles used in the classic 'The Thin Man'. A perfectly sized small glass with an elegant bell shaped bowl. A Nick and Nora glass is a natural for a martini and all its variations. Try our Martini recipe, or a Gibson or Gimlet – this is the perfect size for these recipes.
The very glamorous Nick and Nora glass isn't just for martinis. Any cocktail that is chilled and served strained works. Try our Death and Taxes Cocktail for a thoroughly modern and complex drink.
Nick and Nora Glasses – View on Amazon
Champagne Glasses
I find it nearly impossible to be in a bad mood while holding a Champagne flute. Sparkling wines say, 'Celebration!' and the glass contributes to that festive atmosphere. I prefer a flute that tapers ever so slightly towards the top, such as these from Lenox' Tuscany collection. Slender and sophisticated, I use these glasses for any Champagne based drink – see our post Champagne Cocktails for recipes.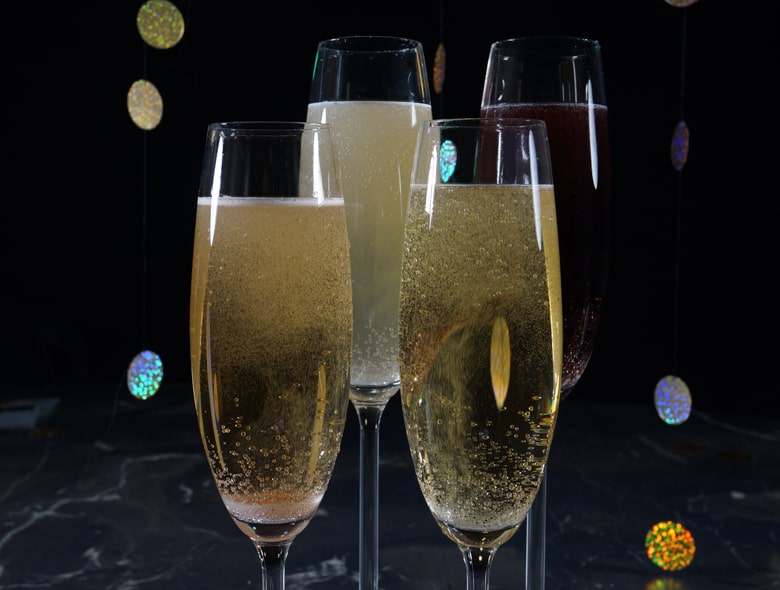 These have become my standard champagne glass for entertaining. The long slim form is beautiful without being top heavy.
Tuscany Champagne Flutes by Lenox – View on Amazon
I hope this helps you choose some perfect drinkware for your bar. For more info on setting up a home bar, please see our post, SETTING UP A HOME BAR.
For more barware – see our post The Best Cocktail Shaker: A Must-Have for Your Home Bar