Last Updated on November 27, 2023 by David Michael
Cranberry Crumble: The Perfect Fall Dessert
Disclosure: This post may contain affiliate links, meaning we may earn a commission if you make a purchase using our links.
Autumn is fresh cranberry season. This easy cranberry crumble recipe is the perfect fall dessert. Its sweet and tart flavors and crunchy topping create a delicious and comforting dessert sure to please everyone at your table.
This cranberry crumble is intended to be a no fuss, very easy to throw together dessert using ingredients you likely already have in your kitchen. It's perfect for the holidays and makes a great addition to the Thanksgiving and Christmas dessert table.
Cranberry Crumble Recipe
Filling
12 ounces fresh cranberries (3 cups), rinsed and picked over
Finely grated zest from 1 orange
½ cup brown sugar, firmly packed

Topping
1 ¼ cups flour
½ cup brown sugar, firmly packed
1 teaspoon ground cinnamon
½ teaspoon ground ginger
½ cup (1 stick) butter, melted

Additional butter for greasing pan
Preheat the oven to 350° F.
Butter an 8-inch-square baking pan, or a 9-inch pie pan.
Combine the cranberries, orange zest, and ½ cup brown sugar and spread into the buttered pan.
In a medium bowl, blend together the flour, brown sugar, cinnamon, and ground ginger. Pour the melted butter over the mixture and toss with a silicone spatula to form crumbs.
Distribute the crumb mixture evenly over the cranberry filling.
Bake for 40 to 50 minutes, until the cranberries are bubbling around the edges and the crumb topping is crisp.
Allow to cool for at least 15 minutes before serving.
Serve warm or at room temperature.
Serve with whipped cream or ice cream if desired.
For an extra special treat, serve with the crème anglaise sauce from our Pumpkin Soufflé.
Tips for Cranberry Crumble Success
Frozen cranberries work great in this also – just add a few minutes of cooking time. You want the cranberries to be bubbling so they break down a bit and mix with the sugar during cooking.
I made this to be as simple as possible, with the fewest ingredients. Feel free to add to it if you like.
A tablespoon of fresh, minced ginger (from about 1 inch of ginger) is really terrific.
Add in a chopped apple – I love Granny Smith apples in this, but feel free to use any you may have on hand.
Have extra chopped nuts? Add some to the crumble mixture.
Is this a cranberry crisp, or a cranberry crumble?
This is a crumble. Technically a crisp has oats in the topping, and sometimes nuts. If you would prefer to call this a cranberry crisp please feel free.
Bon Appetit!
Recommended Products for Cranberry Crumble
As an Amazon Associate, I earn from qualifying purchases
The heavy ceramic pie plate by Staub is perfect for this cranberry crumble. Its versatile 9 inch diameter is perfect for any pies. The saturated color is perfect for serving at the table.
I've owned this zester for years and it's held up beautifully. This zester makes short work of creating very fine zest with no bitter white pith. This one is all stainless and I run it through the dishwasher regularly.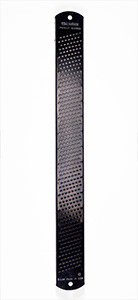 Another tool I've owned for years is the iSi gourmet whip cream maker. It's made of stainless steel and is designed specifically for food service. That means it's easy to clean.