Last Updated on February 22, 2023 by David Michael
Creamy Chicken Liver Pâté
Disclosure: This post may contain affiliate links, meaning we may earn a commission if you make a purchase using our links.
Rich and velvety, homemade pâté is also surprisingly easy. An elegant appetizer, or as part of a party spread, this creamy pâté is sure to be a hit.
Chicken livers are quickly sauteed in butter and then run through the food processor with more butter and cream. Brandy is used to deglaze the pan and is added to the processor. While cognac is traditional, brandy is fine to use. I've even made this with bourbon and the results were delicious. 
Serve this with crackers or toast rounds. I is an excellent addition to a cheese board or as part of a charcuterie platter.
Green Peppercorns
Green peppercorns are added after the pâté has been pureed and are briefly pulsed to break them up a bit. Green peppercorns are usually sold in brine, just drain them before using. The green peppercorns are unripened black peppercorns and are more mild in flavor while still keeping the peppers bite. If you can't find green peppercorns go ahead and use black peppercorns. They both make a great pâté. Dried peppercorns will absorb moisture while the pâté chills overnight and become delightful, soft bursts of flavor.
Pâté Accompaniments
Serve pate with rounds cut from a baguette, toast them if you like for crisp crostini rounds.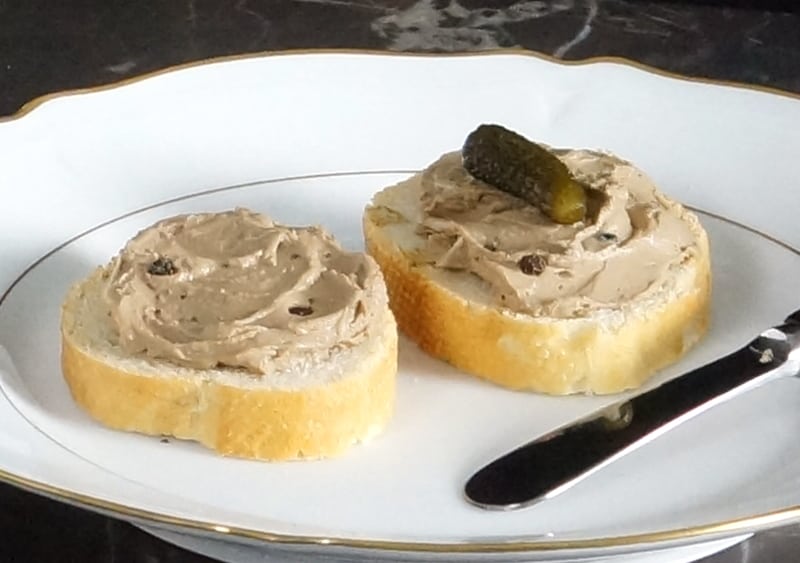 Crackers are a natural.
Serve with low carb crackers for a keto friendly pâté.
Tiny cornichons pickles are a perfect foil for a rich pâté.
Spicy Dijon mustard makes a great accompaniment.
Fresh fruit makes a great companion to serve alongside pâté, it acts as a palate cleanser.
Creamy Chicken Liver Pâté
1 pound chicken livers, trimmed
8 tablespoons (1 stick) unsalted butter, at room temperature
6 tablespoons heavy cream
2 tablespoons brandy
Salt and pepper to taste
1 tablespoon green or black peppercorns
Melt 2 ½ tablespoons butter in a skillet over medium high heat. After the butter foams add the livers and turn the heat to high. Quickly saute until golden, but still pink inside when cut open, about 5-6 minutes.
Add the contents of the pan to a food processor along with the remaining butter and the heavy cream.
Add the brandy to the hot skillet and scrape up any browned bits, add the contents of the pan to the food processor. 
Puree until smooth and check for seasoning, add salt and pepper to taste.
Add the green or black peppercorns and pulse the processor briefly. You just want to break up the peppercorns.
Transfer to a terrine or bowl. Smooth the top and cover with plastic wrap and refrigerate overnight to allow flavors to develop.
Store pate tightly covered in the refrigerator for up to 5 days.
Recommended Products
As an Amazon Affiliate, I earn from qualifying purchases.
The Le Creuset Heritage Pate Terrine is a great stoneware terrine mold for cold pate's and cooked pate's alike. The perfectly fitting press allows you to press the pate while it cools to ensure a silky result.
Using a food processor you can make this chicken liver pate come together in just a few minutes.
Green peppercorns are traditional in pate. Their milder flavor adds visual and flavorful punches.