Disclosure: This post may contain affiliate links, meaning we may earn a commission if you make a purchase using our links.
A grown up chocolate fondue using dark chocolate and a splash of cognac.
Fondue, meaning 'to melt' is from the French verb fondre.
Nearly anything can be improved with a coating of chocolate. Make it a rich dark chocolate with a touch of cognac or brandy (or a liqueur of your choice) and you have a sophisticated chocolate fondue. Perfect for an elegant dessert, date night, or whenever you have a chocolate craving. And of course it's a natural for Valentine's day – and Chocolate Fondue Day is February 5.
We make this fondue foolproof by removing any direct heating of the chocolate. The residual heat from the nearly boiling cream will melt the chocolate into a silky fondue. Just make sure to have your chocolate at room temperature. Making chocolate fondue at home has never been easier.
Use a dark chocolate that you enjoy eating. I usually use 70%  cacao dark chocolate, but use 85% cacao dark chocolate when I want a really deep and rich fondue. Chop the chocolate and have it at room temperature to make sure it melts completely. To make this really easy use dark chocolate chips – no chopping required.
This chocolate fondue is best used right away, but can be made ahead and refrigerated in a covered container. If you need to reheat your fondue use a double boiler and very low heat. Chocolate is very easy to scorch over direct heat.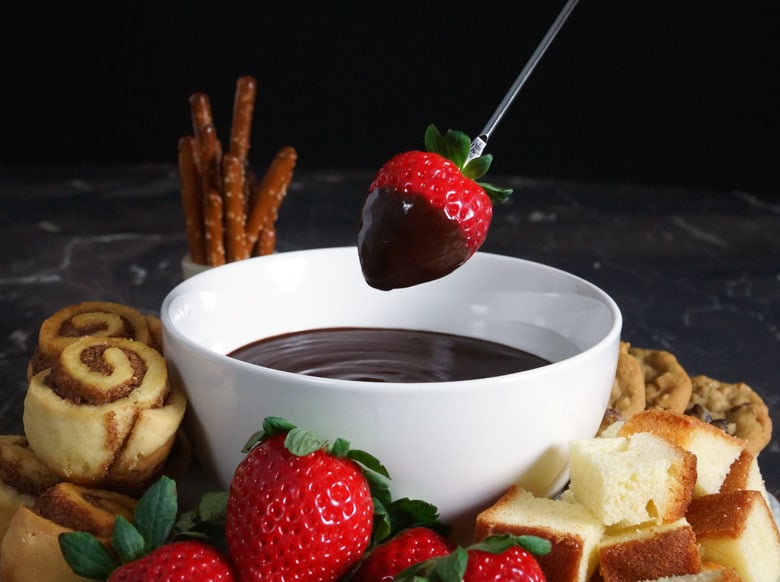 Dark Chocolate Fondue
¾ cup heavy cream
12 ounces dark chocolate, chopped
2 tablespoons cognac, brandy, or other liqueur .
In a medium saucepan with a cover heat the cream over medium heat until the cream begins to simmer with a few small bubbles appearing.
Turn the heat off and add the chocolate. Cover the pan and let sit for 3 minutes.
Stir the chocolate into the cream. The chocolate should stir easily into the hot cream, any unmelted bits should dissolve with the stirring.
Add the cognac, brandy, or other liqueur and stir until that is fully incorporated.
Pour into a bowl and serve hot with fresh strawberries or your favorite dipping accompaniment. This chocolate fondue remains dippable for quite a long time without needing to be kept warm over a heat source. Makes about 1 1/2 cups.
You can also pour it into a chocolate fondue pot that uses a tea light to keep it warm. The gel fueled fondue pots used for cheese fondue tend to get too hot and may scorch the chocolate.
What to Dip
Nearly anything can be a chocolate fondue dipper. If you like it covered in chocolate serve it with your chocolate fondue.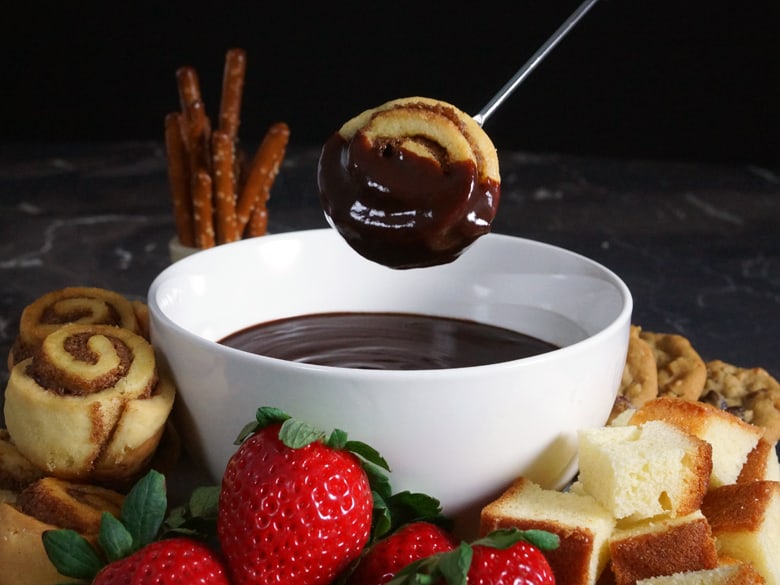 Fresh strawberries are a classic with chocolate fondue
Pound cake sliced into cubes
Fresh Pineapple
Cookies, I particularly like chocolate chip, but almost any cookie is good
Pretzel sticks
Croissants cut into bite sized pieces
Tiny cinnamon rolls
Orange segments
Bite sized brownies for the ultimate chocolate indulgence
Graham crackers
Salted potato chips 
Raspberries
Dried apricots and other dried fruits


Flavor Options
Instead of cognac or brandy, you can vary the flavor of your chocolate fondue, here are a few ideas: 
Cointreau will add a hint of orange flavor.
Chambord will give a sophisticated raspberry note.
Kahlua gives your fondue a coffee flavor for a mocha fondue.
Creme de Menthe (use the clear one) adds a mint flavor, but only use 1 tablespoon so it doesn't overwhelm.
Recommended Products
As an Amazon Affiliate, I earn from qualifying purchases.
The 70% dark chocolate is what I normally use. It makes a deep chocolate fondue that goes with everything.
For serious chocoholics I use the 85% percent chocolate. It makes for a very dark chocolate with only a hint of sweetness. 
Perfect for this recipe, this chocolate fondue set is made to use a much gentler heat than a cheese fondue set.
Expand your chocolate fondue repertoire with inspiration from The Everything Fondue Cookbook. An entire chapter is devoted to decadent dessert fondues.