Disclosure: This post may contain affiliate links, meaning we may earn a commission if you make a purchase using our links.
A pocket notebook is a great way to help get you organized. A pocket notebook gives you a central location to keep notes, receipts, and gives you always available paper to jot down anything you need. It helps end random scraps of paper ending up in your bag, crumpled in a pocket, or lost forever.
There are so many benefits to using a pocket notebook. You may be surprised at how effective such a small item can be.
Portability
A pocket notebook is small enough to tuck into a pocket. They are about 3.5 inches wide by 5 inches tall.  This size notebook can easily be put into a shirt or  jacket pocket. I usually put mine into a back pocket along with a pen. The small size is infinitely portable. The slender staple bound styles are thin and unobtrusive. Pocket notebooks are also available with a hardcover which only adds minimal thickness to the notebook and provides a sturdy writing surface.
Durable
A bound pocket notebook protects the pages inside. A durable pocket notebook will last long after a shoddy one falls apart. Notes hastily written on a scrap piece of paper quickly get creased, rumpled, and even torn when shoved into a pocket. The cover of a notebook helps keep the pages clean and flat. There's nearly no worry you'll throw out an entire notebook by accident. When a notebook is full I like to keep them on a bookshelf in my office. They are always there if I need to refer to them. Keeping notes in a notebook nearly guarantees that you won't mistakenly throw out an important piece of information.
Helps Your Memory
Writing things down helps you remember them. Pam A. Mueller of Princeton University and Daniel M. Oppenheimer of the University of California, Los Angeles studied how note-taking by hand or by computer affects learning. Their research was published in Psychological Science.
Writing things down helps to encode that information in our memory. Once written down you now have a hard copy that you can refer to as a memory or study aid. If you're having trouble remembering things try writing it down.
Once you're in the habit of writing in a pocket notebook you'll know where to look for that information you wrote down.
Battery Free
Unlike an app on your phone, tablet, or computer; a pocket notebook doesn't require any power. Your notebook is always ready for action regardless of the environment, or if electricity is available or not. The only thing you need is a pen or pencil and you're set.
Mental Health Benefits
A Michigan State University study shows that stress relief can come from journaling. Journaling seems to work by clearing your mind of worry and freeing up mental resources to focus on other things.
Another study, this one from UCLA explores the effects of journaling on trauma. By articulating your feelings into words in a journal, the stress of trauma is effectively reduced.
How to use a Pocket Notebook
There are so many ways to use a pocket notebook. From organizing your daily life to looking at the big picture, here are some ways to put these into action. There are so many different pocket notebook uses.  Here are some ideas on how to use a pocket notebook effectively.
Daily Organization
A pocket notebook is a perfect tool to help with day to day tasks. To-do lists are a natural, seeing what still needs to be done for the day helps you plan your time more efficiently. Shopping lists make sure you remember all the ingredients for that recipe you're preparing. They're great for taking down or giving out phone numbers, addresses, or any info. You'll always have pen and paper handy.
To do lists
Shopping lists
Phone numbers
Financial Tracking / Planning
A pocket notebook that's always near you is great for tracking expenses on the go. Writing a quick note lets you worry about entering the correct account and category information later. 
Use your notebook as a ledger to keep yourself on a budget. Track all of your spending and withdrawals as they occur. A notebook will even hold all of your receipts. Some have a pocket in the back cover, or you can use a paperclip to hold your receipts to the inner cover. Everything will be in one place, and you'll have a written record of what each receipt was for.
Expense tracking
Ledger / Bank account register
Receipt holder
Creativity
Have you ever had a genius idea that you couldn't remember? That's frustrating to say the least. Having a pocket notebook with you lets you capture these fleeting moments of inspiration on the fly. Just writing down an idea often helps to unlock the creative juices and leads to more ideas. It's a great way to brainstorm.
Keep a notebook and pen next to your bed or even under your pillow to use as a dream journal. Jotting down your dreams when you first wake up will keep them from evaporating away. The more you get into this habit the better your dream recall will become.
More visual people can get pocket notebooks with blank pages. They make great portable sketchbooks. Some notebooks even come with premium papers specifically for the artist, such as notebooks filled with watercolor paper.
Idea capturing
Brainstorming
Dream journal
Sketchbook
Health
A small, discreet pocket notebook is ideal to help you achieve your health goals. Track your meals by using your notebook as a food journal. Keep track of your weigh ins. Together with a scale that gives you body composition readings you can follow the results of your workouts and how your diet is affecting you. Keep your workout goals and training schedule with you in your notebook. 
Food journal
Weigh in tracking
Workout goals / training schedule
Journal
A pocket notebook is a perfect companion to a full size journal. You can make quick notes that you want to remember to write about later. You can even use a small notebook as a miniature journal altogether. 
Keeping a gratitude journal is a great use of a small notebook. Research shows that keeping a gratitude journal can have some profound effects on our well being. A study by Robert Emmons Ph.D of the University of California, Davis shows that gratitude journaling can improve mood, increase workout frequency, improve sleep and general outlook on life. 
Mini journal
Gratitude journal
Stress relief / mental health
Goals / Motivation
Keeping track of your goals can actually help you achieve them. Writing down what you want to achieve, have, and be helps you solidify what you want to accomplish. Reviewing your goals helps you determine what really is important to you. Mark Victor Hansen's book, Future Diary is filled with inspiring goal setting exercises. His advice to write, 'Victory!' next to your accomplished goals is a great uplifting motivator to keep writing new goals.
You can use your notebook to divide your goals into long term and short term goals. An easy way to do this is by daily, weekly and monthly goals. 
A pocket notebook is also a great place to collect motivational quotes. I have one that is devoted entirely to this purpose. Whenever I need a boost I can open it to any random page and find something inspirational.
Goal setting / tracking
Daily, Weekly, Monthly goals
Motivational / Inspirational quotes
Which Notebook is the Best One For You?
Any pocket notebook that you carry with you and use is the best one. There are two that I consistently use all the time and recommend.
The first is the classic hardcover by Moleskine. It has 192 pages and includes a pocket at the inside back cover. This is one durable pocket notebook, I have many that I got years ago. The elastic band helps to keep any loose notes inside. The heavy ivory colored paper is well suited to any writing instrument. They are available with lined, dot, graph, or plain papers and a variety of cover colors. 
If I had to choose just one, I would pick the Moleskine as the best pocket notebook.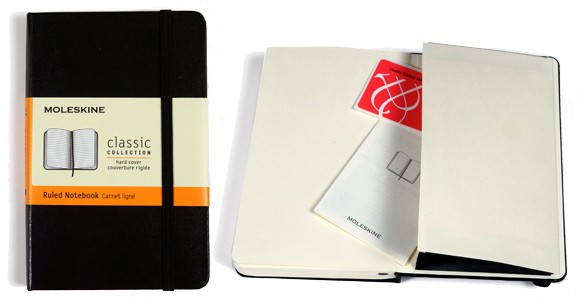 The other pocket notebook I use is the Field Notes books. These are slimmer than the Moleskine Pocket Notebooks, with 48 pages each. They have a softcover. The thinner size makes these easier to slip into any pocket. The paper is a heavy white that suits any writing instrument. They are available with lined or dot papers. There is even a version with waterproof pages available too.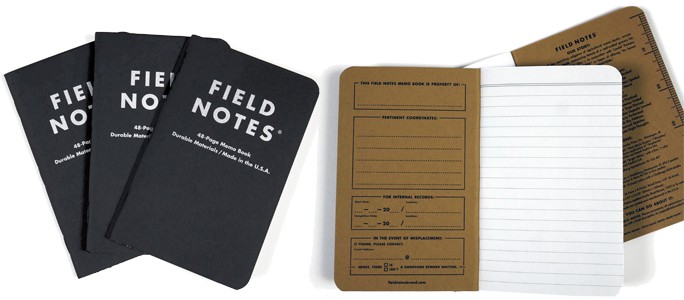 In Conclusion
A pocket notebook is an incredible way to keep organized. The best pocket notebook is the one that you use.  I hope you find inspiration in the many uses listed here. Add a pocket notebook to your everyday carry and start organizing your life.  And there are countless more ways to use them. Let your imagination and your needs guide you.
If you want a really durable pocket notebook, check out our picks for the Best Leather Pocket Notebooks.
For a comprehensive organization system, see our Bullet Journal Buyers Guide.
If you prefer a regular sized notebook, see our picks for Best Leather Journals.