Last Updated on November 27, 2023 by David Michael
Halloween Cocktails
Disclosure: This post may contain affiliate links, meaning we may earn a commission if you make a purchase using our links.
Halloween drinks can be the lifeblood of a party. They don't need to be overly sweet or gimmicky. A few touches to classic cocktails and you'll have Halloween drinks that are easy to make and drink.
Our Halloween cocktails are all twists on classics that are crowd pleasers. Your Halloween party will be a scary good time.
Try our gothic, creepy twists of Gin and Tonic, Blackberry Martini, Death in the Afternoon, Dark and Stormy, and Vodka Cranberry.
Halloween Cocktails: Classics With a Twist
Gin and tonic is an easy classic, just two ingredients. We don't even need to do anything to make this an interesting Halloween cocktail. Tonic water contains quinine which naturally glows an eerie bright blue color. All you need are some black lights to make these drinks glow.
A blackberry martini is given a Halloween makeover with Blavod vodka, a vodka that is made with a tree extract that colors the vodka a beautiful inky black color. If you have trouble finding black vodka use a few drops of black food color. The blackberry martini becomes a black berry martini in our version.
Death in the Afternoon is a drink created by author Ernest Hemingway. It's another drink that doesn't need any tweaking; the name alone is Halloween perfect! It's simply Champagne and absinthe. The absinthe lends this drink a haunting green tint and turns cloudy from the oils louching into the Champagne.
A dark and stormy is the classic dark rum and ginger beer cocktail. We use Kraken black rum to make our Black and Stormy variation. Top the drink off with a Halloween swizzle stick like these witch hat stirrers and you're set for the party.
Nearly everyone loves a vodka cranberry. We swap out the cranberry for a deep red pomegranate juice. Garnish the drink with a black sugar rim. Use pomegranate molasses to moisten the rim and amp up the sweet tart flavor of this cocktail. Add a slice of blood orange to add to the Halloween theme.
Gin and Tonic
Halloween Gin and Tonic Recipe
2 ounces gin
6 ounces tonic water
Garnish: lime wheel or lime wedge.
In a highball glass half filled with ice add the gin then the tonic.
Add a straw or swizzle stick and stir.
Garnish with lime wheel or wedge.
These will glow when exposed to a black light.
Black Martini
Black Berry Martini Recipe
2 ounces Blavod black vodka
1/2 ounce crème de cassis
1/2 ounce triple sec
Garnish: fresh blackberry.
In a mixing glass half filled with ice, combine the vodka, crème de cassis, and triple sec.
Stir well.
Strain into a cocktail glass.
Garnish with fresh blackberry.
If you can't find the black vodka use regular clear vodka and add a few drops of black food coloring to the mixing glass.
Death in the Afternoon
Death in the Afternoon Recipe
1 1/2 ounces absinthe
Chilled Champagne.
Pour the absinthe into a flute.
Top with Champagne.
Black and Stormy
Black and Stormy Recipe
2 ounces Kraken black rum
6 ounces ginger beer
Garnish: lime wheel or lime wedge.
In a highball glass half filled with ice add the rum then the ginger beer.
Add a straw or swizzle stick and stir.
Garnish with lime wheel or wedge.
Vodka and Pomegranate Juice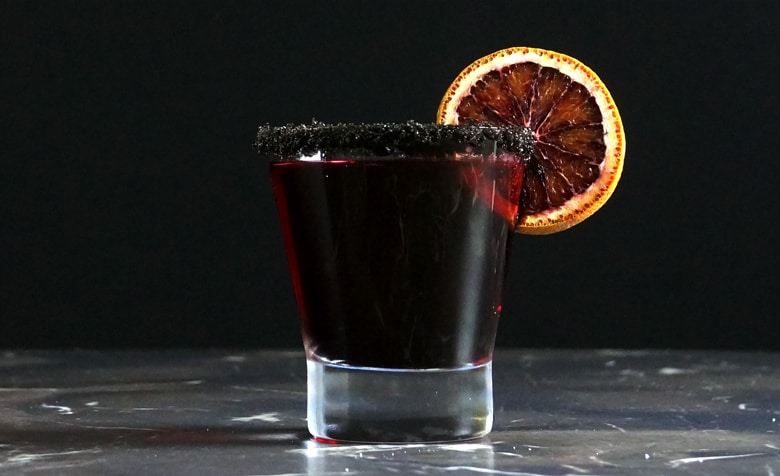 Vodka and Pomegranate Juice Recipe
2 ounces vodka
6 ounces pomegranate juice
Garnish: pomegranate molasses, black sugar, blood orange wheel.
In a sugar rimmed double old fashioned glass half filled with ice add the vodka then the pomegranate juice.
Add a straw or swizzle stick and stir.
Garnish with blood orange wheel if desired.
To sugar the rim of the glass:
Pour pomegranate molasses into a small plate to cover the bottom of the plate.
Pour black sugar into another small plate to cover the bottom of the plate.
Dip the rim of the glass into the molasses, then the black sugar to coat the glass with a black sugar rim.
Pumpkin Spice White Russian
The classic White Russian warmed up with pumpkin and autumn spices. See our Pumpkin Spice White Russian Here.
The Obituary
The Obituary is a sophisticated absinthe accented martini. Try our Obituary Cocktail Recipe.
Stinger and White Spider
These have very appropriate Halloween names and are a perfect refreshing choice. Stinger White Spider
Browse all of our cocktail recipes in our Cocktail Recipe Index.
We hope these cocktails help set the Halloween mood for your party, or just having a quiet spooky night in.
Have all the ingredients and more delivered right to your door, with Drizly!
Be sure to check out our other Halloween posts for more ideas:
Halloween Food for some Halloween food that combines creepy with delicious.
Halloween Decor to help set the tone without being too cliche.
Halloween Music for the perfect background music for a party, to sound effects for a haunted house.
Halloween Books that will send chills down your spine.
Halloween Candy for our favorite Halloween treats to hand out (and nibble on).
Halloween Party Ideas – a great Halloween party is easy to throw with our Halloween party picks.
Be sure to check out All Things Halloween for all of our Halloween and related links.
Recommended Products for Halloween Cocktails
As an Amazon Affiliate, I earn from qualifying purchases.
I love these all glass swizzle sticks. It doesn't get much more Halloween then black and orange witch / wizard hats. These add a great touch to tall drinks and are perfect for a Halloween cocktail party. See more of our favorite Swizzle Sticks Here.
Give your Halloween drinks a finish with classic linen but in a raven black color.
This is the black light I used for the images. With the regular lights on the gin and tonic needs to be close to the black light. If you dim your regular lights and use the black light – the drink will glow beautifully. The Sunlite CFL bulb produced the best black light of others tested.
Give your Halloween cocktails a black sugar rim to give them an elegant gothic flare.
This makes an excellent base for the black sugar rim. The pomegranate molasses is a bit thick, and holds onto the sugar crystals really well. It's also quite tart and with the sugar gives an extra sweet / tart spin to your Halloween drink.
Visit the Amazon Halloween Shop for costumes, lawn decorations, and more.
For more cold weather drinks, see our post on Hot Drinks