Disclosure: This post may contain affiliate links, meaning we may earn a commission if you make a purchase using our links.
Decking your place out for Halloween can be achieved with a few well chosen accessories.
Halloween decor doesn't need to be paper bats and cobwebs and plastic spiders put everywhere. You can give your home a Halloween theme by thinking more Gothic. A black vase paired with an orange or gold vase makes an instant Halloween statement. After Halloween you just move them to separate areas. The beauty of gothic elegance is you can leave it out all year.
Glass pumpkins are a favorite of mine. They are the epitome of fall, and you can use them right through autumn into winter. I love the glass pumpkins that Luke Adams makes in his Massachusetts studio. He makes pumpkins in an amazing range of colors in addition to classic orange ones. The one I have is the colorway 'Harvest'.
Got an old silver candle stick that needs polishing? They make great Halloween decor. No need to polish at all – just add a few black candles and you're done. 
Candy corn is an overlooked design element. Use it as a vase filler. A few columns of clear glass filled with candy corn is a great way to add some Halloween fun to your home.
Here are some of our favorites: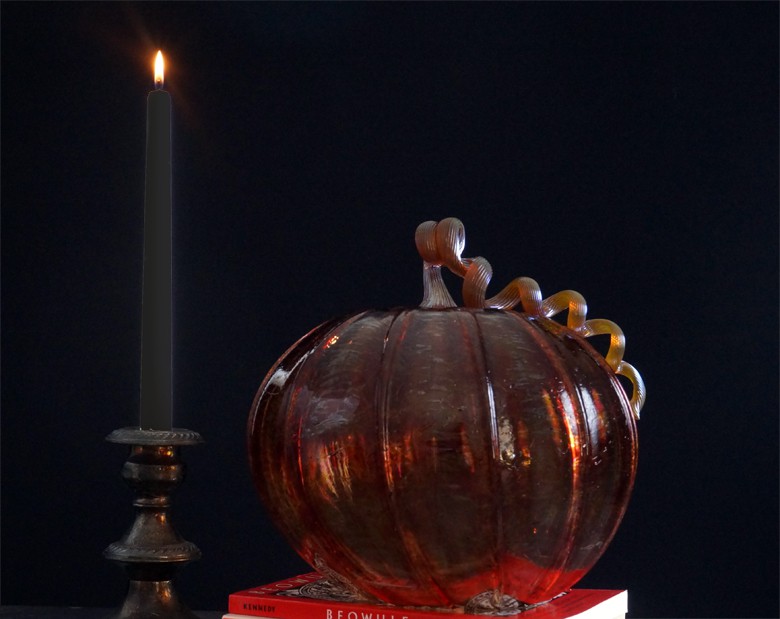 These are all handmade in Luke's glass studio in Massachusetts. They come in a range of sizes and colors – cobalt blue, plum, even rainbow colors. Timeless and elegant, I leave mine out all year but like to pair it with a tarnished candlestick and black candles for Halloween. Start your own pumpkin patch collection! See our post on Glass Pumpkins for more.
I love the lines of this matte black vase. Simple enough to be modern, but also work with any decor. These are only 8″ tall, so I would probably use these in pairs. 
This orange glass vase is a perfect statement vase for Halloween. Pair it with a black vase for Halloween decor, use it alone for a cheerful colorful accent. I love the faceted round shape. This would look beautiful filled with spiky blue sea holly.
Colonial Candle makes high quality dripless candles. These were always my go to for photo shoots. They burn clean and smokeless, and last a really long time. The black candles are perfect for Halloween decor.
If you don't have any tarnished silver candlesticks, this gunmetal finish candelabra will stand in nicely for your Halloween Decor.
This is a 5 pound bulk pack of candy corn. This should help fill a few small containers or a good sized larger one. These work great for Halloween decor because they have a wax finish that prevents them from getting sticky for a long time. Plenty of time to make it through the spooky season.
We hope our Halloween Decor selection helps you give your home a bit of gothic elegance for the season.
Be sure to check out our other Halloween posts for more ideas:
Halloween Cocktails that aren't overly sweet.
Halloween Food for some Halloween food that combines creepy with delicious.
Halloween Music for the perfect background music for a party, to sound effects for a haunted house.
Halloween Books that will send chills down your spine.
Halloween Candy for our favorite Halloween treats to hand out (and nibble on).
Halloween Party Ideas – a great Halloween party is easy to throw with our Halloween party picks.
Visit the Amazon Halloween Shop for costumes, lawn decorations, and more.