Last Updated on November 27, 2023 by David Michael
Home Bar Accessories – Our Top Picks
Disclosure: This post may contain affiliate links, meaning we may earn a commission if you make a purchase using our links.
Express Your Personality
The pieces you choose as your home bar accessories allows you to make a personalized style statement. Sleek and minimal, more ornamental, playful and whimsical – or a combination of styles allows your set up to mirror your personality. We hope you enjoy our picks for some of our favorite home bar accessories.
Elevate the Experience
You can hand a drink to anyone and they now have a drink in their hand. Serve them a cocktail placed on a linen napkin with a glass swizzle stick and now you've elevated the entire experience.
A few well chosen accessories can show off your personal style and turn an ordinary drink into an exceptional one.
Easy Holiday Themes
It's easy to update your bar to celebrate any holiday or occasion. Themed napkins, cocktail picks, straws are just a few ways to add a holiday touch without breaking the bank.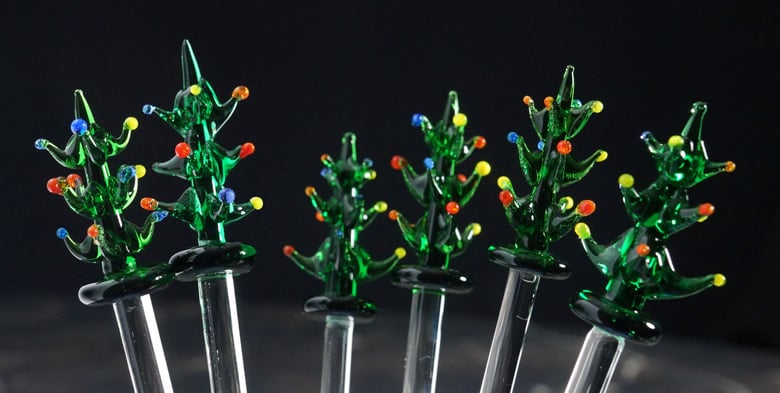 I personally like to collect Christmas themed swizzle sticks. They don't take much storage space, and add a fun touch to winter parties. You can find swizzle sticks in any number of themes such as Halloween, Tiki Party themes, just about anything you can think of.
The Finishing Touch
Like a perfect piece of jewelry to adorn an outfit, a few perfect accessories can give your bar that finishing touch.
We compiled some of our favorite bar accessories to help you choose accessories to express your individuality.
Cocktail Napkins
We love the elegance of the larger cocktail napkin that folds into the perfect 5 inch square. Serving a drink with a cocktail napkin automatically adds a bit of panache to your party, and helps protect your furniture.
These are available in limited colors, but I like their quality.
Check Price on Amazon
Classic 6 inch square cocktail napkins. I love the colors these come in. No need to fold, just put them down and they are ready to use.
Check Price on Amazon
Glass Straws
I really like glass straws more than the stainless steel ones. They are durable and easily cleaned and add a nice touch to drinks. Colored straws can help your guests keep track of their drinks at a party.
Long straws
Clear or multicolored.
Check Price on Amazon
Short straws
Perfect for a double old fashioned glass. I even use these in my coffee mug. The included cleaning tool is fantastic.
Check Price on Amazon
Cocktail Picks
If there's one bar accessory that I feel is a necessity is a good cocktail pick. A great way to hold a garnish in your drink, and as a small stirring rod. They also make great hors d'oeuvres picks. I have dozens and dozens of these.
Also available in an extra long 8 inch size. Great for highball and collins glasses.
Check Price on Amazon
Other styles available, a really great selection. I particularly like these cocktail themed picks.
Check Price on Amazon
Animals, skulls, there's something for everyone in this assortment. Dress your drinks with a little personality with these picks.
Bloody Mary Picks
These are fantastic, I'm almost embarrassed at how often I use these – almost. These heavy duty stainless steel cocktail picks are the perfect thing to use for garnishing your bloody marys. These heavy gauge brunch picks are sturdy enough to hold just about anything you would like to use to garnish your bloody mary. These are the best bloody mary garnish holders I've seen. These really bring your brunch game up to the next level.
Swizzle Sticks
I love the toucans, but they also offer other great designs too. The assortment lets you use a different one for everyone. These are great for a Tiki night.
I love these fun glass swizzle sticks for a tropical themed party.
These do triple duty as garnish holder, skewer and swizzle stick.
Strainers
A high quality stainless steel strainer.
For those that like a high quality Julep style strainer.
Corkscrews
Available in different wood and resin finishes.
Bar Cutting Board
Many colors, my personal choice at home. Non slip gripper bottom keeps this secure even on damp surfaces.
Zesters
This makes perfect zest strips and twists for cocktails.
Many great colors available, perfect for cinnamon, nutmeg and fine citrus zest.
Bottle Stoppers
The Kloveo is by far the best Champagne stopper I've ever used. This is the only one that let me store an open bottle on its side and not leak.
Bottle Pourers
These are great fun, and there are other animals available.
Julep Spoon Straws
Soda Water Bottle
I love the old fashioned style of using a seltzer bottle at the bar.
Another brilliant piece from Raw Rutes, this cocktail pick is designed to hold herbs, fruits (really anything you can imagine) in your drink to infuse it with flavor. Try them with rosemary in a gin based drink, and soon you'll be using them for all kinds of creative drinks.
In conclusion
These are some of our favorite bar accessories, but by no means complete. We hope you enjoy our picks, and use them to accessorize your home bar to truly reflect your style and personality.