Entertaining One or More
A home bar can serve not only drinks, but can serve as a focal point for entertaining. Setting up a home bar allows you to have a civilized way to unwind, with only a few essentials.
It can be a stand alone bar cabinet or a more portable bar cart. A bar can even be set up in a small space on a sideboard or cabinet. A tray is a nice way to define your bar space on a cabinet. Place your spirits and some glassware on a tray and you've got a home bar.
The easiest way to set up a home bar is to start small. Begin with a few essentials and build up over time. You can make a surprising variety of drinks with a few basics. You can always add to your bar's stock of glassware and bottles if you're planning a party.
Glassware
You can serve nearly any drink with just 3 types of glassware. An old fashioned for short drinks served on the rocks, neat etc. Tall Collins glasses for long drinks and those made with sparkling mixers. And all purpose stemmed glass for wines and mixed drinks. You can expand your collection to include martini cocktail glasses and champagne flutes as needed.
Old Fashioned
Collins
All Purpose Stem
Alcohol
The base of nearly any drink is made of just 7 liquors. Again, start small and slowly build your collection. Start with what you like to drink and add to your bar to build up to the 7 basics:
Vodka – the true neutral spirit adding no additional flavors. Used in the Vodka Cranberry, Bloody Mary, White Russian
Gin – for the classic Gin and Tonic, French 75 and Martini
Whiskey or Bourbon – to make an Old Fashioned, Manhattan, and Whiskey Sour
Brandy – gives us the Sidecar, Brandy Alexander, and served neat
Rum  – for the classic Rum and Coke, Daiquiri, and Pina Colada
Tequila – makes the Margarita, Tequila Sunrise, and Paloma
Once you have the basics, feel free to add some interesting liquors to your selection.
Tools
It only takes a few simple implements to outfit your bar.
A stirring glass with a bar spoon for drinks that are mostly spirits, like a martini. A shaker for drinks that have heavier ingredients such as dairy, egg whites, some fruit juices. A strainer to be used with both the shaker and stirrer. A jigger measure is especially useful when trying new cocktails so you end up with the proper result. An ice bucket is perfect for when you're entertaining and don't want to keep running to the kitchen for ice. Lastly, a small cutting board and knife for slicing fruit garnishes and twists. To recap, start with the basics:
Shaker
Stirrer and Bar Spoon
Strainer
Jigger
Ice Bucket
Small Cutting Board and Knife
Other tools such as muddlers, zesters, juicers can be added as the need arises. Specialty ice molds that make large size cubes and spheres are a nice touch.
Check out our post on Cocktail Shakers for our picks.
For more complete sets, see our post on Best Bar Sets for your Home.
Mixers
A selection of mixers allows an impromptu cocktail to be made on the fly. Small individual serving size glass bottles are best. They hold carbonation better, and there's less waste if the entire bottle isn't used. Start your bar off with just a few essentials such as:
Club Soda
Tonic Water
Dry Vermouth
Sweet Vermouth
Triple Sec
Bitters
The vermouths are fortified wines, and should be stored in a refrigerator to preserve their flavors. Fresh juices and simple syrups can be added to your selection when planning a gathering, and should also be kept chilled. Other mixers can be added as needed.
Finishing Touches
These are the things that give your home bar that little bit of finishing polish. Small touches like these can turn an ordinary drink into an extraordinary cocktail.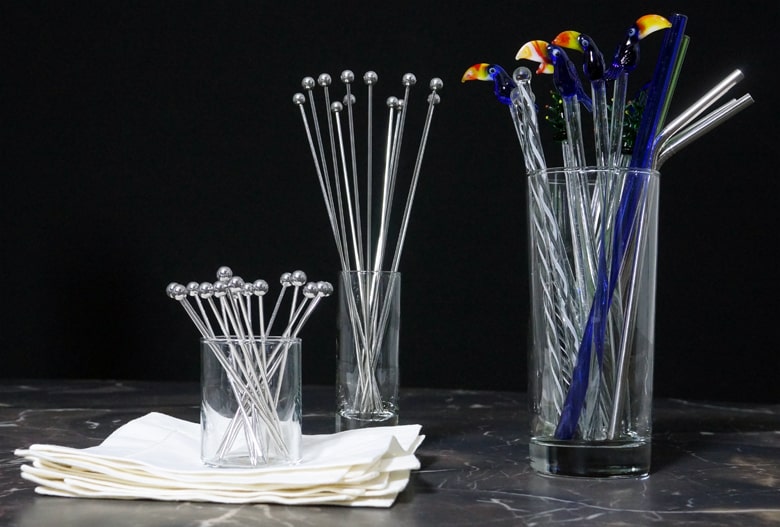 Linen Cocktail Napkins
Glass Swizzle Sticks
Metal Cocktail Picks
Glass or Metal Straws
See our post on Home Bar Accessories for some recommendations.
To Conclude
Setting up your home bar is really easy. Just follow our guide and start with just a few things. Build up your collection of spirits and glassware and equipment at your own pace. Only add things as you need them and you will end up with a bar that functions for you. You'll be entertaining in style in no time at all.