Last Updated on November 17, 2023 by David Michael
Pumpkin Chili
Disclosure: This post may contain affiliate links, meaning we may earn a commission if you make a purchase using our links.
When the weather cools celebrate the harvest with this pumpkin chili, perfect for fall, Halloween, and anytime.
This is usually the first seasonal food of fall that I make. It's been a staple of pumpkin carving parties, and usually shows up on Halloween. I like to make this in Staub's pumpkin shaped cocotte, it goes right from the stove to the table in style.
Pumpkin ale gives this an autumnal boost and enhances the pumpkin flavor.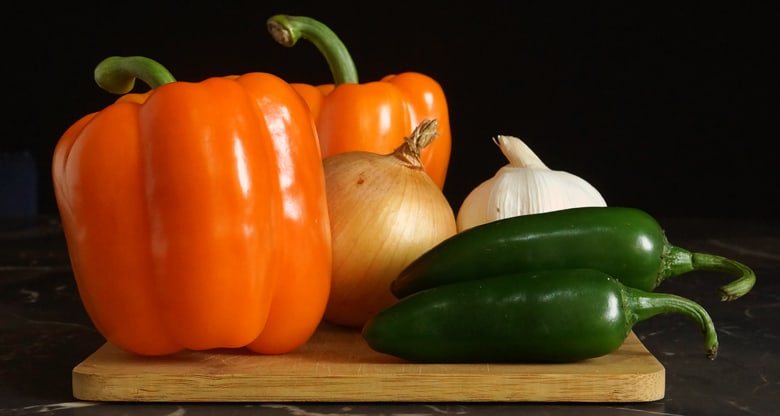 Pumpkin Chili Recipe
1 yellow onion, diced
1 red or orange bell pepper, cored, seeded and diced
2 jalapenos, diced. Remove seeds if you would like a milder chili
2 cloves garlic, minced
1 tablespoon chili powder
1 teaspoon ground cumin
1 pound ground turkey
1 14.5 ounce can diced tomatoes, undrained
1 15 ounce can pumpkin puree
1 12 ounce bottle of pumpkin ale
1 15 ounce can of kidney beans, drained and rinsed
2 tablespoons Olive oil
Salt and pepper
Garnish: chopped cilantro, sour cream
Yields about 10 cups.
Heat olive oil in a 3 quart dutch oven over medium high heat.
Add onion, bell pepper, jalapenos, and garlic.
Cook, stirring frequently until onion and peppers are soft, about 6 minutes.
Add chili powder and cumin and cook for about 1 minute.
Add turkey and cook, stirring to break up large chunks and cooked through, about 12 minutes.
Add tomatoes, pumpkin puree, and beer; stir.
Bring to a boil, then reduce heat to low.
Add drained beans and simmer uncovered for 30 minutes, stirring occasionally.
Serve garnished with sour cream, cilantro, and any other additional topping you like. Shredded cheese, diced red onion, diced tomatoes, diced peppers are all great options. Tortilla chips add a great crunch.
I hope you enjoy!
This makes a great addition to a Halloween party, for more savory ideas check out our post on Halloween Food.
Be sure to check out All Things Halloween for all of our Halloween and related links.
Recommended Products for Pumpkin Chili
As an Amazon Affiliate, I earn from qualifying purchases.
Staub's Pumpkin Dutch oven is perfect for pumpkin chili, and any other fall soups and stews. It looks great on the table and is such a beautiful piece that goes right from the oven or stove to the table.