Last Updated on November 27, 2023 by David Michael
Homemade Salsa
Disclosure: This post may contain affiliate links, meaning we may earn a commission if you make a purchase using our links.
Salsa comes in many styles, from raw salsa frescas to cooked versions like salsa roja.
Our salsa is a Pico de Gallo. A fresh salsa fresca with less liquid than other salsa frescas. It's perfect for topping our nachos without getting the chips soggy. If you want it with a little more liquid for use as a dip just add an extra squeeze of lime juice and don't seed the tomatoes.
Serrano chiles are more commonly used in this type of salsa. Jalapenos give a milder and more herbaceous flavor. If you want a spicier salsa substitute two – three serranos for the jalapenos.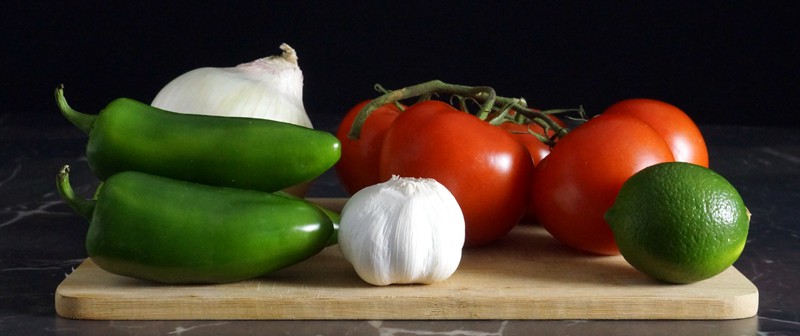 Salsa Recipe
4-5 ripe plum tomatoes, or 2-3 medium round tomatoes
3-5 fresh jalapeno chiles
1/2 white onion
1 clove of garlic
12 stems of cilantro
1/2 lime
Pinch of salt.
Slice the tomatoes in half widthwise and gently squeeze out the seeds. This will keep your salsa from getting watery. Dice the tomatoes and add them to a bowl.
Slice the jalapenos lengthwise and remove the seeds if you want a less spicy salsa. Dice the jalapenos and add them to the tomatoes.
Dice the onion and add to the tomatoes.
Finely dice the garlic and add to the tomatoes.
Finely slice the cilantro leaves and about two inches of the stems and add them to the tomatoes.
Squeeze the 1/2 lime over the salsa and add a pinch of salt. Mix thoroughly with a spoon. Taste and adjust salt and lime juice to taste.
Fresh salsa is an ephemeral thing. It's best used within a few hours of being made. It will last a few days in the refrigerator, but it will release liquid and become a little watery.
A perfect companion for tortilla chips, salsa can be used as a condiment for nearly anything.
Try it as a burger topping. Use it to braise meats like chicken breasts. Top eggs with salsa for classic huevos rancheros.
You may also like our Guacamole recipe.
Use this salsa with our Everything Nachos.
Recommended Products for Salsa
As an Amazon Affiliate, I earn from qualifying purchases.
Bamboo is an excellent material for a cutting board. It's sustainable and doesn't blunt the edge of your knives.
The Global paring knife makes quick work of all the dicing for salsa. I use mine for just about everything and it stays sharp.