Last Updated on February 20, 2023 by David Michael
Thanksgiving Essentials
Disclosure: This post may contain affiliate links, meaning we may earn a commission if you make a purchase using our links.
Thanksgiving essentials for cooking and serving thanksgiving dinner. Everything you need to create a memorable Thanksgiving celebration.
I love Thanksgiving. A time to bring together friends and family to celebrate the bounty of the harvest. For years I would have a huge sit down celebration for anywhere from 30-50 friends and family. Now that I have a much smaller home my festivities are dialed back a little, but my Thanksgiving formula still works.
I like a late afternoon supper with a cocktail hour beforehand. Small appetizers placed around that are easy, one-bite sized to give everyone something to nibble on. The 'hour' usually lasts about an hour and a half and gives people time to arrive and mingle. Remember the music – mellow jazz like Ella Fitzgerald is perfect for this time.
The bar is usually set up on a kitchen table and is totally self-serve. All the fixings for a bloody mary bar are present, along with lots of glasses, ice, spirits, mixers, beer and wine, and non-alcoholic choices too.
Everyone is seated at the table for the main course.
Guest of honor carves the turkey and serving platters and bowls are passed around the table. Wine is opened and passed around, or if it's a large gathering placed around the table. Afterwards the table is cleared as desserts and dessert plates and forks are placed on the sideboard. Coffee is brewed and the desserts are self serve.
Thanksgiving Essentials: Setting the Table
The table is your canvas and I normally like to fill the table with flowers and candle holders and favors. Thanksgiving is when you need to have some restraint. The table also needs to hold all the serving bowls and platters that get passed so I stick to smaller floral arrangements and just 2 or 3 candlesticks.
Tablecloth – I love the simplicity of this jacquard and the easy care cotton blend.
Napkins – Linen hemstitched napkins are always right, this set is a great value too.
Silverware – Elegant lines make this suitable for modern and traditional tables, dishwasher safe for ease.
Plates – I like classic white for Thanksgiving, and the gold edged scallops are an elegant touch.
Place-card Holders – I use classic sphere holders, they're small and unobtrusive on a crowded table.
Wine Glasses – I love these stemless Reidel glasses and use them as all purpose wine glasses.
Water Glasses – Simplicity itself, classic and clean lined; this water glass is totally multi-purpose.
Candle Holders – Small yet heavy enough not to tip over. This set is just enough for a dinner table.
Vases – Just large enough for a few flowers, 3 of these would be perfect for Thanksgiving.
Salt and Pepper Shakers – I love these marble salt and peppers, 2 or 3 are perfect for medium or large tables
.
Thanksgiving Essentials: Cocktails and Appetizers
The cocktail hour is the perfect buffer to allow guests (even the chronically late ones) to get there in time for the sit down dinner. Totally self serve with pre-made appetizers so the host / cook can tend to the cooking without having to make drinks etc. I love to set up a Bloody Mary Bar, and really any Pitcher Cocktail makes entertaining a breeze.
Cocktail Glasses – These Orrefors City double old fashioneds are elegant, sturdy, and well priced.
Champagne Flutes – The archetypical champagne flute from trusted name Lenox. I use mine all the time.
Water Glasses – From the bar section above – totally multipurpose.
Cocktail Napkins – Classic hemstitched linen is the finishing touch, you can never have too many of these.
Cocktail Shaker – Barfly's high quality shaker set covers all the basics for your mixology needs.
Cocktail Mixing Glass and Spoon – For those discerning mixologists that want to stir instead of shake.
Corkscrew – Once you use the heavy duty Prestige Waiters Corkscrew By Coutale Sommelier you'll never go back.
Ice Chest – A party always needs more ice, keep it handy without overloading your freezer with an ice chest.
Ice Bucket – Keep ice on the serving table with this chic and functional Oggi insulated ice bucket.
Cocktail Picks – Perfect for garnishing drinks and skewering appetizers.
Small Garnish Bowls – These bowls with lids let you prep lemon twists, lime wheels etc in advance.
Water Pitcher – Keep a few of these on hand to refill water at the table too.
Thanksgiving Essentials: The Main Course
The main event! From our Foolproof Roast Turkey (see our recipe) to all the sides, this is what people think of when they think of Thanksgiving. I always end up needing more serving platters and dishes than I think I need because of last minute menu additions. Here are my Thanksgiving Equipment Essentials for the main course.
Roasting Pan with Rack – A must have for roast turkey, this Cuisinart one is sized and priced right.
Digital Thermometer – This is the one I use, the handy magnetic back keeps it right on my fridge.
Baking Dish Sets – These lidded deep dish pyrex bakers make storing leftovers easy.
Baster – This stainless baster won't melt and doubles as a flavor injector.
Carving Board – This board is big enough for even the largest turkey.
Carving Knife and Fork – Zwilling J.A. Henckels carving knife and fork has the quality that will last many years.
Serving Platters – I love these oval platters, the rounded shape helps save tabletop space.
Serving Bowls – These oval serving bowls have the advantage of handles, I love these.
Serving Spoons – Regular and slotted, these always find a use.
Serving Forks – I always seem to need more than I have.
Gravy Boats – I like this footed style that doesn't need a saucer, it can be easily passed around the table.
Bread Baskets – I love these Alessi wire baskets for bread and rolls, and they're great as fruit baskets too.
Cranberry Relish Dish – These are perfect, and banana splits later!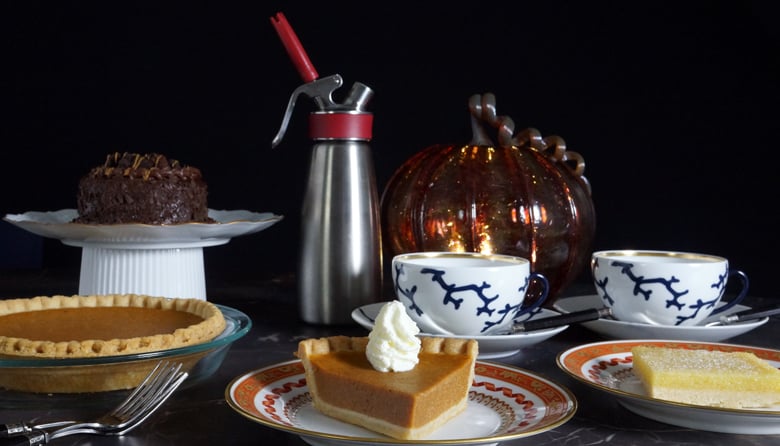 Thanksgiving Essentials: Dessert
Pumpkin pie is the traditional dessert for Thanksgiving, but I like to have a variety of sweets to offer in addition. Lemon bars, cranberry tarts, gingerbread cake, chocolate cream pie, brownies, and cookies have all made their way onto my dessert table. Make them a night or two in advance and this becomes the easy part. My Kitchenaid mixer really does the heavy lifting for the dessert making.
Pie Pans – The classic pyrex pie plates. I had these growing up and I still use them.
Rolling Pin – An essential when making pie crust from scratch.
Kitchenaid Mixer – The classic kitchen workhorse. I would be lost without mine.
Whip Cream Maker – The Isi gourmet is built to last and easy to clean. Mine practically lives in my fridge.
Cookie Cutters – These fall leaves cookie cutters are perfect for Thanksgiving.
Dessert Plates – I love using a different pattern for dessert, and I love these blue plates so much.
Dessert Forks – Pile these up next to the dessert plates for an easy self serve dessert bar.
Coffee Cups and Saucers – Loving this deep teal color for autumn.
Coffee Pot – Serve coffee in style in the modern stoneware server.
Teapot – For brewing and serving I love this pale blue color.
Cream and Sugar Servers – These simple white porcelain ones go with everything.
Teaspoons – If your place setting doesn't have enough, these are a great set.
Coffee Urn – For those really large celebrations.
I hope this helps make your Thanksgiving a streamlined easy event as it should be. Happy Thanksgiving!