Disclosure: This post may contain affiliate links, meaning we may earn a commission if you make a purchase using our links.
Show how much you care for your valentine by offering them one of these classic cocktails instead of an overly sweet drink. Or make yourself a drink. Valentine's is a day to celebrate love, and what better way to show yourself some love than with a delicious cocktail. These cocktails are all classics, and aren't loaded down with sugar.
Valentine's Cocktails
The Cosmopolitan makes a perfect Valentine's drink with vodka. The cranberry turns this a beautiful red – perfect for a Valentine's theme.
The Hanky Panky is a classic gin based drink, and it has the perfect Valentine's cocktail name.
Champagne is always an appropriate drink, and we dress it up for the occasion in the Kir Royale.
The Manhattan is a rye whiskey based drink that makes a perfect Valentine's cocktail. Whiskey is mellowed with a little sweet vermouth and garnished with brandied cherries. Often served in a cocktail glass, here we pour it into an old fashioned glass for understated sipping.
Whether you like vodka, gin, whiskey, or champagne; one of these cocktails are sure to please your palate.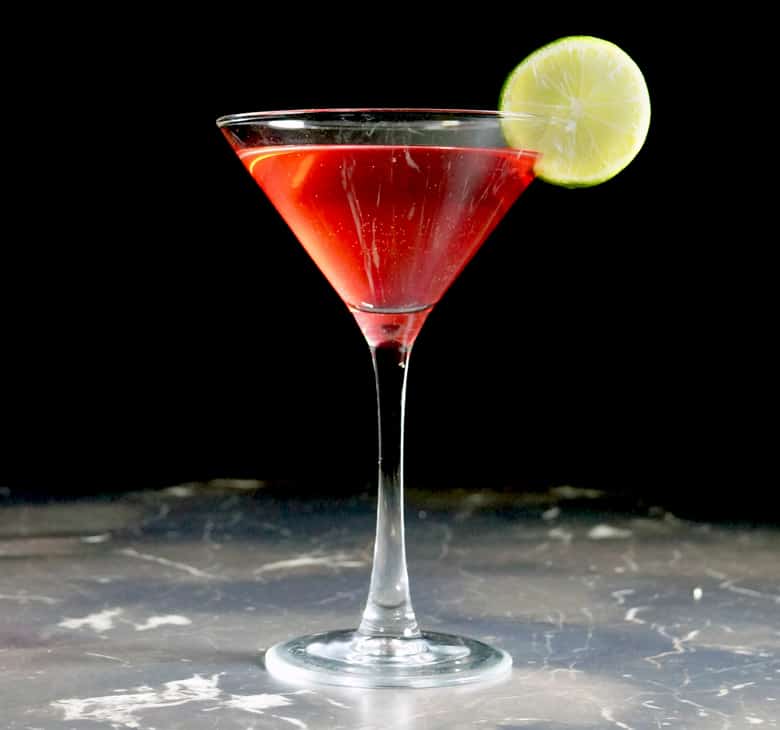 Cosmopolitan
1 ½ ounces citrus vodka
¾ ounce Cointreau
1 ounce cranberry juice
¼ ounce fresh lime juice
Garnish: lime wheel or orange twist.
In a cocktail shaker combine the vodka, Cointreau, cranberry juice, and lime juice with ice.
Shake well.
Strain into a cocktail glass.
Garnish with lime wheel or orange twist.
Hanky Panky
2 ounces gin
1 ounce sweet vermouth
1/4 ounce Fernet Branca
Garnish: orange twist.
In a mixing glass half filled with ice, combine the gin, vermouth, and Fernet.
Stir well.
Strain into a coup glass.
Garnish with orange twist.
Kir Royale
1/2 ounce crème de cassis
Chilled Champagne
Garnish: lemon twist.
Pour the crème de cassis into a flute.
Top with Champagne.
Garnish with a lemon twist.
Manhattan
2 ounces rye whiskey
1 ounce sweet vermouth
2 dashes Angostura bitters
Garnish: brandied cherries.
In a mixing glass half filled with ice, combine the rye, vermouth, and bitters.
Stir well.
Strain into a cocktail or old fashioned glass.
Garnish with brandied cherries.
For those with a sweet tooth, try our Chocolate Martini.
We hope these Valentine's cocktails help you to set the mood. Feel free to substitute Prosecco for the Champagne, use a dry brut for the best results. We like using a larger cocktail mixing glass. The larger size makes it easy to double the quantities if you would like to make cocktails for two. A quiet night in or a Valentine's party, serve up some cocktails with style.
We hope you have a wonderful Valentine's Day!
Be sure to check out our other Valentine posts for more ideas:
Valentines Ideas for entertaining and gift giving.
Valentines Candy for our favorite treats to share.
Have all the ingredients and more delivered right to your door, with Drizly!
Recommended Products
As an Amazon Affiliate, I earn from qualifying purchases.
Tiny gold hearts are perfect for Valentine's cocktails.
Perfect for the Hanky Panky and Manhattan, this mixing glass is sturdy and heavy bottomed for stability. It's the one that I use myself.
Shake up a Cosmopolitan with style using A Bar Above's 4 piece set. Boston shaker with a Hawthorne strainer and a double sided jigger for nearly all your cocktail needs.
The perfect garnish for a Manhattan, these brandied cherries are delicious on their own too.
A beautiful red glass works with just about any drink on Valentine's day. I love these red glasses with a bit of heft and embellishments that work in modern and traditional settings.