Vertical Roast Chicken
Disclosure: This post may contain affiliate links, meaning we may earn a commission if you make a purchase using our links.
Growing up, Sunday night dinner was always a little more special than the rest of the week. More often than not that meant Sunday night roast chicken. Served with mashed potatoes with gravy, sauteed vegetables, and cucumber salad. Sunday night was the only meal we always had dessert also.
For me it is the ultimate comfort food: a perfectly cooked roast chicken. I feel that the most simple seasoning is also the best. A touch of butter and salt and pepper is all that is needed.
The first time I had a vertical roasted chicken was eye opening. Completely crispy and browned on all sides. I rarely roast a chicken using any other method.
I like to cook the chicken on the vertical roaster with the legs up. The fat from the legs will self baste the breast. It also makes carving the leg / thigh super easy.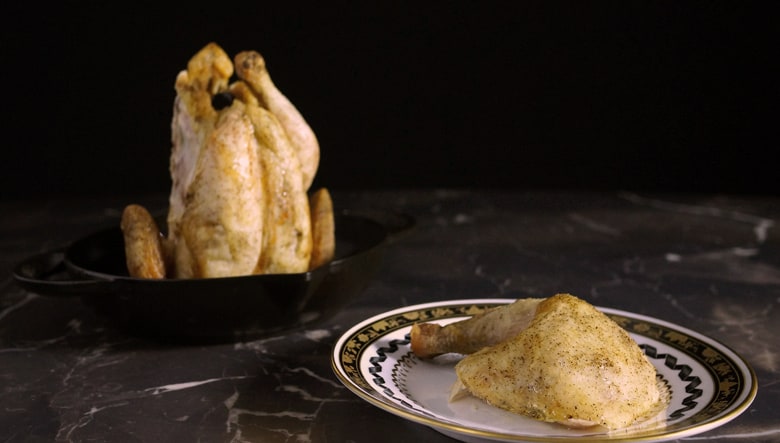 I like to tie the legs of the chicken together. This keeps the legs from going over the built in drip pan of my vertical roaster. If your vertical roaster doesn't have a drip pan, just place it in a shallow roasting pan to catch any drippings. I use the Staub cast iron vertical chicken roaster, but this recipe will work for any vertical roaster.
If your chicken wants to lean to one side, push a half of a lemon or half an onion into the cavity to get it to stand upright.
Vertical Roast Chicken Recipe
1 Whole chicken (about 3 ½ pounds)
1 Tablespoon softened butter
Salt and pepper
Lemon or onion if needed.
Preheat the oven to 350º Fahrenheit.
Rub the chicken with the softened butter and season inside and out with the salt and pepper.
Place the chicken on the vertical roaster with the legs up. If your chicken is a bit wobbly, stabilize it by pushing a lemon half or two into the cavity. Onion halves work also.
Tie the legs together with cooking twine and place in the oven, on a shallow roasting or sheet pan if needed.
Cook until the juices run clear and the chicken reaches an internal temperature of 165. About an hour and 15 minutes. Check the temperature after 1 hour. Check the temperature with an instant read thermometer inserted in the thickest part of the thigh.
Remove from the oven and let rest for 10 minutes before carving.
Use any drippings to make a gravy or sauce to serve with the chicken if you like.
Serve with roasted vegetables or a salad and you've got a great meal.
A larger 5-7 pound bird will take about 2 hours, check the temperature to be certain.
Of course you can use any seasonings you like, think of my recipe as a blueprint.
I've also cooked a duck with the vertical roaster, it gives off a lot of fat so be sure to put a larger drip pan underneath the roaster. Super tasty results too!
We hope you love your vertical roast chicken as much as we do.
Bon Appetit!
For the holidays you may like our recipe for Foolproof Roast Turkey.
Recommended Products
As an Amazon Affiliate, I earn from qualifying purchases.
This is the digital thermometer that I use and love. It gives you peace of mind to be able to check the temp of anything that you're roasting. It also has a magnetic back so you can keep it your oven door or refrigerator for quick access.
Made for cooking, this pure cotton twine does not contain any resins or coating that you wouldn't want in your food.
This is the vertical chicken roaster that I use and love. It's a solid, single piece of enameled cast iron that is easy to clean. I've roasted up to a 8 pound chicken using the Staub roaster with beautiful results. I've also used it to vertically roast a duck (put another roasting pan under it to catch the drippings – ducks will drip plenty of fat).
Browse Amazon for more great Cookware.
You may also like our post on our picks for Best Stainless Steel Cookware.
See our review of the Staub Tea Kettle.